Audioguide from Orbital
Why an audioguide?
Many visitor and heritage sites are realising that an audioguide can represent a good investment in technology, providing increased facilities to the visitor and enhanced interpretation without excessive signage. In addition, an audio tour can be used as a further source of revenue as well as a new way of addressing visitors. Audioguides are also an excellent way of facilitating access for disabled visitors young and old and assist compliance with the Disability Discrimination Act.
Orbital is one of the UK's leading suppliers of sound systems and design solutions for theatre, live events, conferences, exhibitions, visitor attractions, film, television and is now a major player in the audioguide industry. Orbital has partnered with audio-visual market leaders Sennheiser to offer the revolunationary interactive audioguide system guidePORT.
Orbital's outstanding professional reputation is based on our ability to offer innovative and effective audio solutions that meet our clients' creative goals, while remaining within their budgetary constraints.
However exacting or unusual your demands, you can benefit from our expertise, imagination and attention to detail. We can also offer a wide range of financial and marketing packages to ensure the success of your tour.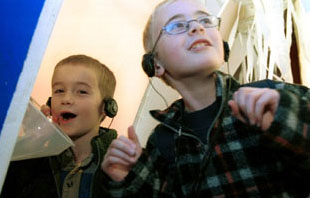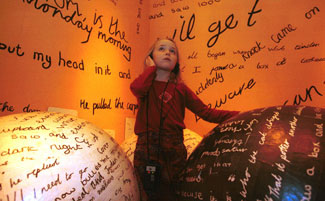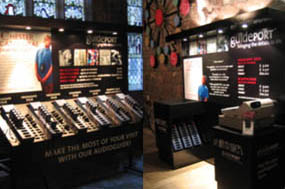 Tour Planning, Scripting and Audio Production
Orbital would be delighted to design the new audio tours. We would work in conjunction with your interpretation staff and consultants to incorporate all the required elements into each of the proposed tours. Requirements for visually and hearing impaired visitors will be considered carefully. Our audioguide engineers will look at the neatest way to integrate the equipment infrastructure within your venue.
Working with your interpretation and visitor staff, Orbital's experienced scriptwriting team would design and produce the proposed tours, integrating music and sound effects as required to appeal to each target audience. Foreign language translations can also be produced as required.
Orbital has a team of interpretation and disability consultants who we are able to call on for expert advice. We would involve our disability consultants at an early stage to tailor the audio content of specialist tours to the requirements of visually and aurally impaired visitors, integrating tactile engagement with the venue and its contents.
Orbital has an established procedure for client and consultant sign-off at each key stage of the tour production process: route planning, scripting, audio recording and installation.
Orbital charges for scripting and audio production on a per minute basis, and is all-inclusive with the exception of some music copyright charges and named voice-over artists.
Foreign language versions frequently form part of audio tour installations, either at the outset or added a later point. Orbital is able to call on a team of translators and voiceover artists who are highly regarded in the industry.
Installation and Project Management
The entire project would be overseen from the outset by one of Orbital's dedicated Project Managers. The Project Manager is your main point of contact at Orbital and is responsible for scheduling, the timely delivery of the completed audio tours, installation and staff training.
Our systems require minimal installation, and therefore minimal disturbance to buildings with delicate fabric and high visitor numbers. Orbital's qualified engineers are sympathetic in dealing with listed buildings and other architectural challenges, working to the highest electrical and aesthetic standards.
Marketing and Sales Analysis
Orbital aims to provide the best possible service at all times to its clients and their visitors. Our Project Manager builds an ongoing relationship with clients, working to ensure that your audioguides are deployed effectively. Our Project Manager will remain in regular contact with your staff to ensure that the tour continues to operate correctly and that any sales and marketing issues, special promotions, etc. are covered. Orbital's Project Manager can also provide assistance with analysis of sales figures, visitor flow and ongoing developments of the tour. guidePORT's new Statistics Manager software package is particularly helpful in this respect.
Orbital can also provide custom signage and point of sale material to promote your audio tours, along with specially designed point of sale counters, if required.
Maintenance
Our audioguide equipment is robust and has a one year manufacturer's warranty. In addition, Orbital offers its FIXIT maintenance agreement, to cover your equipment should anything arise outside of the manufacturer's standard warranty terms. This provides cover 24/7 365 days a year, giving you access to our highly trained technical support department and our on site technicians. Orbital has a reputation for optimum maintenance and repair through a long history in the entertainment and visitor attraction industries. A guide price for a FIXIT maintenance contract is given below, although exact pricing will depend on the final tour infrastructure.
Orbital is pleased to offer a range of payment options including outright sale, rental, lease purchase and iGuide, a unique profit sharing pay per use scheme. We would be delighted to talk to you in more detail about these various options.