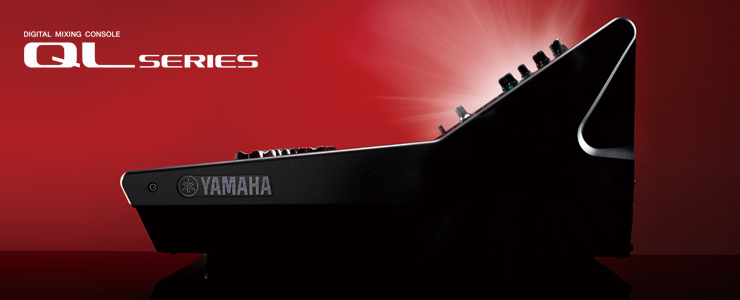 QL5
32 + 2 fader configuration adapts to a wide range of channel layouts. The QL5 is a compact console with large-scale capabilities.

Mix channels: 64 mono, 8 stereo.
Busses: 16 mix, 8 matrix (Input to Matrix supported).
Local I/O: 32 in, 16 out.
Fader configuration: 32 + 2 (Master).
Stainless steel iPad support stays.
QL1
16 + 2 fader configuration in a compact, rack mountable unit.

Mix channels: 32 mono, 8 stereo.
Busses: 16 mix, 8 matrix (Input to Matrix supported).
Local I/O: 16 in, 8 out.
Fader configuration: 16 + 2 (Master).
Rack mountable with optional RK1 Rack Mount Kit.
The Quintessential Compact
The acclaimed CL series raised live digital mixing console performance to an unprecedented level of refinement with evolved sound quality, operability, and functionality, while maintaining the traditional values that have made Yamaha digital mixers industry standards. Core features and performance inherited directly from the CL series, including natural sound supported by sonically superb internal processing capabilities, operation that easily adapts to the demands of just about any working environment, and built-in Dante networking that facilitates flexible system configuration, have now been condensed and concentrated into the compact QL series digital mixing consoles. QL series consoles offer all-in-one mixing, processing, and routing capability for small to medium scale live sound, corporate speech events, installations, and much more.
Main Features
Pure, Natural Sound Plus Powerful Built-in Processing for Broad Creative Control

The Yamaha sound begins with reproduction that is faithful to the source. QL series consoles feature circuitry and components that have been designed and selected with the utmost care, achieving outstanding audio purity from input to output. With that solid sonic foundation it becomes possible to take full advantage of built-in premium internal processors such as the Portico 5033/5043 created in cooperation with Rupert Neve, to shape and create as required. For a wide range of speech applications built-in automatic mixing functionality from Dan Dugan Sound Design provides optimum channel balance while allowing the operator to concentrate fully on optimizing the overall sound.

Refined Control for Smooth Operation

The ability to respond swiftly and surely to multiple, rapidly changing demands is essential for effective live sound support. QL series consoles feature large touch-panel displays as well as "Touch and Turn" knobs that make up a remarkably smooth, efficient control interface. Attention has also been paid to details such as fader feel and channel name display visibility in order to deliver a sophisticated overall operating experience. Remote control and offline setup capability via an iPad or computer adds even more refinement to an already state-of-the-art operating environment.

Expandable All-in-One Support for Any Application

In addition to ample analog input and output capacity, QL series consoles feature the same Dante audio networking protocol that provides broad connectivity in the CL consoles. There's also an innovative "Port to Port" feature that can patch any input port to any output port so the QL console can function as a remote I/O device for any other QL or CL series console, for example. Other flexibility enhancing features such as 2-track and multitrack recording capability, and dual MY expansion slots that allow processing capability or I/O to be added as required, make the QL consoles suitable for use as central components in an extensive variety of sound applications.
System Examples

Click to enlarge >

A Compact System that Automatically Mixes up to 16 Speech Mics

At conferences or speech events where space for equipment is limited, a compact all-in-one QL console can be a huge advantage. The built-in Dan Dugan Automixer can automatically provide an optimum mix of up to 16 speech microphones. Events can be recorded directly to, and pre-recorded BGM can be played back from a USB flash drive. The StageMix application can provide remote control capability for even greater efficiency and convenience.


Click to enlarge >

A Simple Live System with Daisy-chained l/O Racks

This is an example ofa simple live system that makes use of Dante networking Stage side R-series l/O rack units are connected to the front-of-house QL console via network cables An Aviom personal monitor system can also be connected to the Dante network via an Aviom D800-Dante distributor. This setup even allows multi—track recording to a computer via the Dante network.


Click to enlarge >

QL Console for Monitor Mix and HQ in a Reliable Star Network

In this compact but capable live sound system a CL series console serves front—of—house while a stage side QL console doubles as monitor mixer and I/O device thanks to its Port to Port capability. The Gain Compensation function means that head amp gain can be safely controlled from either console without interference. For maximum system reliability a star network configuration with network switches is used for redundancy, so that a problem in one part ofthe network will not interrupt the overall signal flow, Live recording to multiple computers is also possible.
For more information please see Yamaha Commercial Audio QL Series