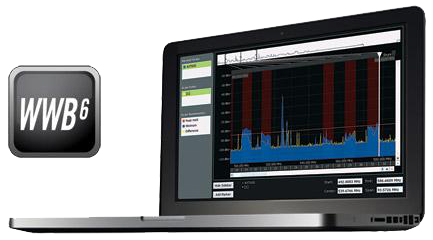 Wireless Workbench 6: Comprehensive event management and control software
Sweeping functionality that optimizes the power of Axient.
WWB6 features an enhanced graphic user interface, tailored to support the breakthroughs Axient provides in advanced RF spectrum plotting, comprehensive frequency coordination, and live performance monitoring.
Shure Wireless Workbench 6 software is the most comprehensive wireless system control available. It provides a rich interface to manage every facet of a performance over the network, from pre-show planning to live performance monitoring.
Before the show, Wireless Workbench 6 utilizes saved scan files to provide detail about the RF environment from off-site, and also includes a database of TV channels based on location to help with the planning process. When connected to the Axient Spectrum Manager, Wireless Workbench performs live RF scans and analysis, with detailed graphic overlays and device markers on a high-resolution frequency plot.
Comprehensive frequency coordination uses the scan data, TV channel database, and advanced compatibility algorithms to create and assign a list of clean, viable frequencies for any number of channels in a system, plus backup frequency management.
During the show, Wireless Workbench 6 enables live remote adjustments to networked hardware for instant changes to frequency, gain, RF output power, and more. Customize controls in a familiar channel strip interface to show audio and RF meters, battery life, and volume control for each channel of a wireless system. Configurable user alerts provide quick response options through the software to solve interference issues when detected, or for battery life and RF signal strength conditions.
Delivering the ability to coordinate, monitor, and control the most complex wireless systems all from a laptop computer, Wireless Workbench 6 truly unleashes the full power of Axient.