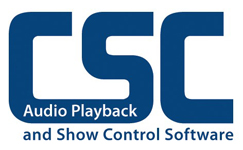 Ever wondered what controls the big shows? How the sound effects are replayed reliably night after night to audiences all over the world? How the entire sound system is pulled together and automated at the touch of a button? Well the answer is using a Show Control System. And CSC is one such system used nightly on prestigious West End musicals and touring shows alike worldwide.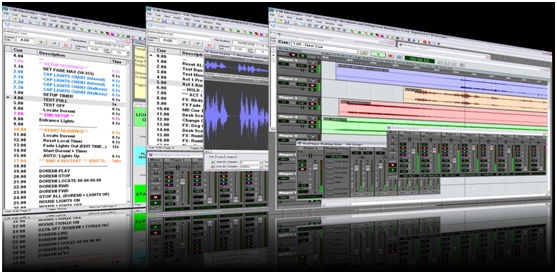 CSC is a complete Theatrical/Live Sound Show Control Software package for Windows XP/Vista/7/8/10. It can be used to tie together all aspects of live sound control, and enable performances far more complex than could ever be dreamed of using traditional human control. The key difference with CSC to other systems is the use of a modular workspace, and a much more "hands on" approach to constructing a show. Designs are constructed around "real" objects - wave playback is similar to using traditional MiniDisc machines and CD players, and levels can all be changed at the touch of a button.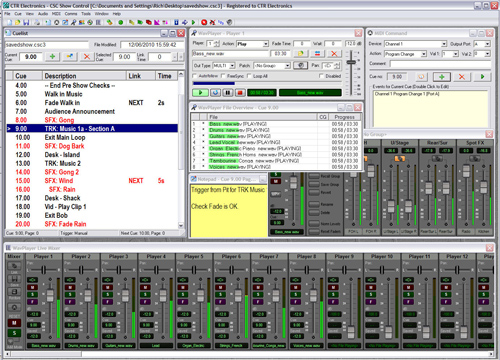 Shows can be designed using cuelist methodology, for sequential events to be triggered, or for one-off, less predictable events, pages of hot scenes to instantly recall any state or sound can be pre-programmed.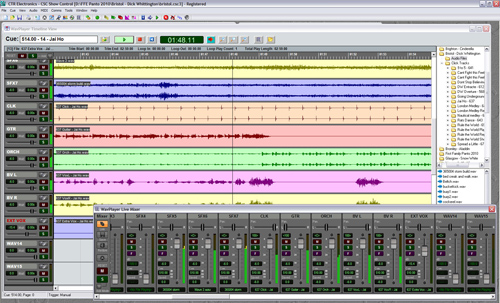 MIDI control is supported in the form of standard MIDI messages, MIDI Show Control, MIDI Machine Control and customizable strings of System Exclusive commands. MIDI Sequences can be recorded to enable capture of modern digital mixing desk's fader movements, or for live recording of sound effects sequences using samplers and keyboards.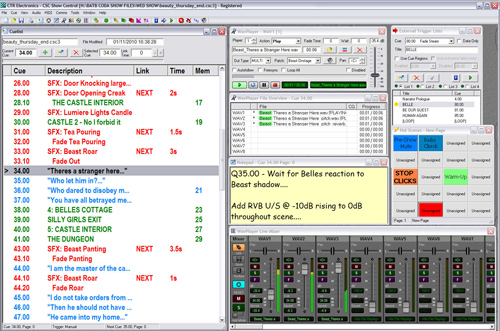 Playback
Audio playback can be automated, with an offering of 24 playback devices, each of which can be programmed to Play, Stop, Fade, Pause or Resume standard WAV files, to any suitable output devices installed on the system. Complex sequences of wave files can be mixed and layered easily using the Live Mixer module, which can control the level and pan of any of the playback devices at any point in time, as well as traditional mixer features such as Solo and Mute to fine tune and diagnose problems in a mix.
Equipment designed to respond to RS232 Serial commands such as DVD players or video mixers can be controlled from CSC also, the Serial module allowing user defined messages of ASCII or HEX characters to be sent to up to 4 Comm ports on the computer.
Triggers
Events can be triggered by remote control button boxes, MIDI commands, TCP/IP network messages, and triggers can even be based on the system time clock. Multiple computers can be networked together to track a master and send network chat messages to each other.
The External trigger list allows 4 additional cuelists to be constructed allowing event triggers such as switches in props or MD click track start buttons to be integrated into the system with ease. All events are safeguarded to occur at the correct time only through the use of cue regions.
New to Version 3 is the inclusion of a wave display editor to finely adjust wavefile start and stop points without needing to jump out to an editor, add loop points to enable easy vamping and constantly changing soundscapes, and well as a timeline based editor similar to traditional sequencers to visually edit a cue (From version 3.1). "Image" groups can be set using the new Routing Mixer and recalled or edited on the fly.
CSC is available for download in LE or PRO versions.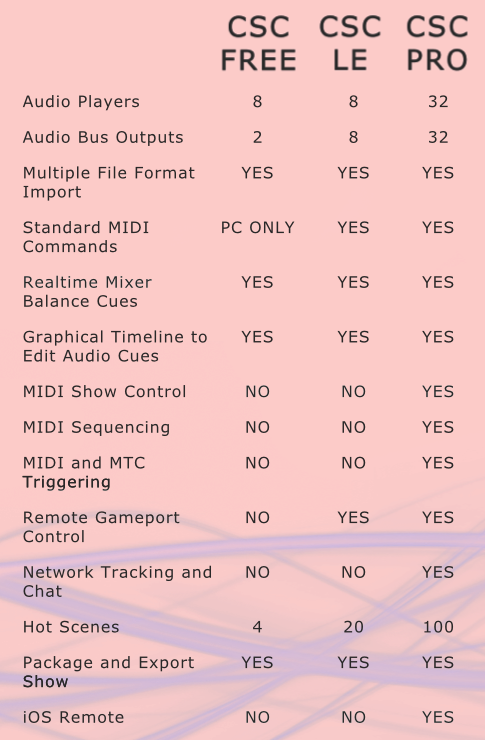 CSC SHOW CONTROL v3.0
CSC is a theatrical and live sound control software system for Windows.
It has been developed to aid the need of theatre sound designers and anyone who needs some degree of control functionality for a production.
CSC has built in capability for multiple wave file playback, automated fading, cue linking, the sending of standard MIDI messages, MIDI Show Control support (1.0 spec), MIDI Machine Control support, Serial and Telnet commands as well as network tracking and backup facilities.
Shows can be edited offline on a laptop and transferred to a main computer system with ease saving valuable production time "in the space".
Written by theatre professionals, CSC presents the designer and operator alike with tools that are really needed in today's technologically changing theatrical world, and helps to solve many of the long term problems which have hindered control applications in the past.
The Workspace
All show design in CSC is performed within the modular workspace. The workspace can be configured to show as many modules as are required for the show, and the visibility and placement of these is stored within the show file. If a module is used for programming, but then removed from the workspace, then data within the module is still executed, the windows are merely hidden from view. The most important part of CSC is the cuelist and the use of individual cues to build up a show.
About Cues
In CSC, a "cue" is a point in time. For any cue, any number of events can occur, and they all have the one common factor that groups them together: they all happen at the same point in time and can all be fired from a single button push. No 2 cues can ever be executed at exactly the same point in time. A cue can actually be thought of as a "workspace memory", so a list of 5 individual cues will be giving the user 5 individual memories, each one remembering the settings of each module within the workspace. On recall of the cue, any data within each module is also executed, or transmitted.
CSC has been designed by people who really know the industry, and as such offers a set of features you really need, in an all round easy to use package.
All Versions support
Keyboard and Mouse Controls
LE and Pro Versions:
GPI control via Gameport adapter (either built in soundcard or USB-Joystick adapter)
Fully compatible with Nemesis product range
Pro Version:
MIDI Control. Any device which generates standard MIDI messages
Fully compatible with Nemesis product range
For Programmable MD solution use with the Nemesis MidiDog
For dual computer redundancy use with the Nemesis CCS-2 Computer Control Switch
For Combined MD Start/Stop button and Operator GO Buttons use with the Nemesis UMT-2D Interface , combined with Nemesis 8 Button 1 Out remote (for operator) and Nemesis 2 Button 1 Out remote (for MD)
Tablet/Mobile: iOS Control System using tRemote App or compatible 3rd party application